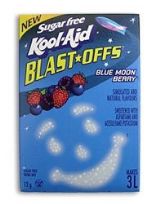 Blue Moon Berry Kool Aid
A blue moon berry flavored Kool-Aid. Kool-Aid is an artificially-flavored soft drink concentrate made by Kraft Foods. Kool-Aid is sold as a powder to be mixed with water, and versions are made with and without sugar as well as with an artificial sweetener.
You have no Bar set up yet.
Set Up My Bar
See all our
Blue Moon Berry Kool Aid Drinks
,
Blueberry Juice Drinks
, or just
Juice Drinks