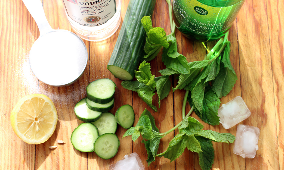 Sodium Chloride
spice Brands
Salt
Sodium Chloride...
Pepper
Crushed peppercorns. Freshly ground tastes best....
Sugar
Sweet food usually refined from sugar cane....
Cinnamon
Cinnamon is available powdered or in sticks. It is a member of the laurel or Lauraceae family and gr...
Mint
A dry, light-bodied peppermint schnapps. Perfect for sipping!...
Vanilla
A plant native to Mexico now common in areas throughout the West Indies and Indian Ocean. The pod is...
White Chocolate
Smooth, creamy & delicious. Enjoy the silky taste straight, in an elegant cocktail or as a delectab...
Horseradish Sauce
A horseradish flavored Sauce. Sauces are lightly thickened liquids that add, flavor, moisture and vi...
Superfine Sugar
A very finely ground granulated sugar used in baking. Similar to the English Castor Sugar. It is of...
Sage
Sage is an herb with oblong gray-green leaves which are used in cooking and herbal medicine. The her...
Allspice
A single spice, rather than a combination of all spices, which is reminiscent of a nutmeg, cloves, j...
Angelica Root
The root of any of a group of herbs called Angelica. It has been used in some cultures to treat cert...
Horseradish
A horseradish flavored Sauce. Sauces are lightly thickened liquids that add, flavor, moisture and vi...
Clove
Cloves are the aromatic dried flower buds of a tree (Syzygium aromaticum, sometimes included in the ...
Vanilla Sugar
Sugar flavored with vanilla, usually by putting a split vanilla bean pod in with some sugar for seve...
Powdered Sugar
Powdered sugar is a very finely ground form of sugar that is synonymous with confectioner's sugar. I...
Brown Sugar
Made by mixing refined molasses syrup with white sugar. Light and dark brown sugar are two types ava...
Nutmeg
A native of the Spice Islands, nutmeg is the hard, egg-shaped seed of the nutmeg tree. The flavor an...
Celery Salt
Salt combined with dried seeds of the celery plant. Salt is essential to good cooking, for it brings...
Black Pepper
Black pepper is a seasoning produced from the fermented, dried, unripe red berries, called peppercor...
Cayenne Pepper
Cayenne Pepper is made from the dried pods of pungent chili peppers. This fiery spice adds flair to ...
Cardamom
(sometimes spelled ...
Dill
Originally discovered in southern Europe, dill has since been transplanted to more northern climates...
Anise Seeds
A spice which produces a licorice-like flavor....
Coriander
Seeds from the coriander plant, related to the parsley family. The flavor is a mixture of lemon, sag...
Fennel Seeds
The aromatic dried seeds of the fennel plant, they are small, olive green, shaped like flattened ova...
Mace
Spice made from the dried fleshy covering of the nutmeg seed. It has a stronger flavor and smell th...
Oregano
A popular culinary herb of the mint family with a flavor similar to that of sweet marjoram or thyme....
Red Pepper Flakes
The dried flakes of dried ripe red hot chile pepper. Most are quite hot....
Candied Ginger
Ginger cooked in a sugar syrup and coated with coarse sugar....
Cinnamon Sugar
Believe it or not, a blend of cinnamon and sugar!...
Marjoram
Marjoram (Origanum majorana, Lamiaceae) is a cold-sensitive perennial herb or undershrub with sweet ...
Caraway
Caraway or Persian cumin is a seed used for flavoring breads, liquors, casseroles, and other foods. ...
Cumin
This spice is a member of the parsley family and dates back to the Old Testament. Also called "cumin...
Basil
A member of the mint family, this vibrant, aromatic herb is best known for adding wonderfully fresh ...
Hot Sauce
Hot sauce, chili sauce, or pepper sauce refer to any spicy sauce made from chili peppers and other i...
Chili Pepper
The chili pepper, chilli pepper, or chili, is the fruit of the plants from the genus Capsicum, which...