Horse's Neck Drink Recipe
Horse's Neck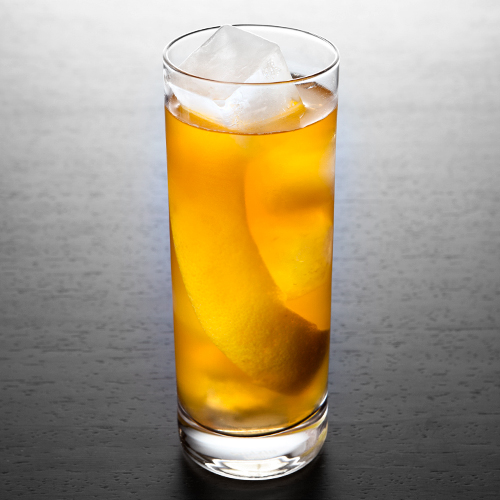 Horse's Neck Instructions
The Horse's Neck is a classic cocktail that dates back to the 1890s. It is a simple yet refreshing drink that combines the flavors of whiskey and ginger ale. The name "Horse's Neck" comes from the long spiral of lemon peel that is used as a garnish, which resembles the neck of a horse.
To make a Horse's Neck cocktail, start by filling a highball glass with ice. Pour in 2 ounces of your favorite whiskey, such as bourbon or rye. Top it off with ginger ale, leaving some room at the top for the lemon peel garnish. Gently stir the ingredients together to combine. Next, take a long, wide strip of lemon peel and carefully twist it around a bar spoon or your finger to create a spiral shape. Place the lemon peel in the glass, allowing the end to hang over the edge. This will give the drink its distinctive "horse's neck" appearance. The Horse's Neck is a versatile cocktail that can be enjoyed on its own or as a base for other flavors. For a sweeter version, you can add a few dashes of bitters or a splash of simple syrup. You can also experiment with different types of whiskey or even substitute ginger beer for ginger ale to give the drink a spicier kick.
So the next time you're in the mood for a classic cocktail with a unique twist, give the Horse's Neck a try. Its refreshing flavors and eye-catching presentation are sure to impress!
Best served in a Highball Glass.