Tom Collins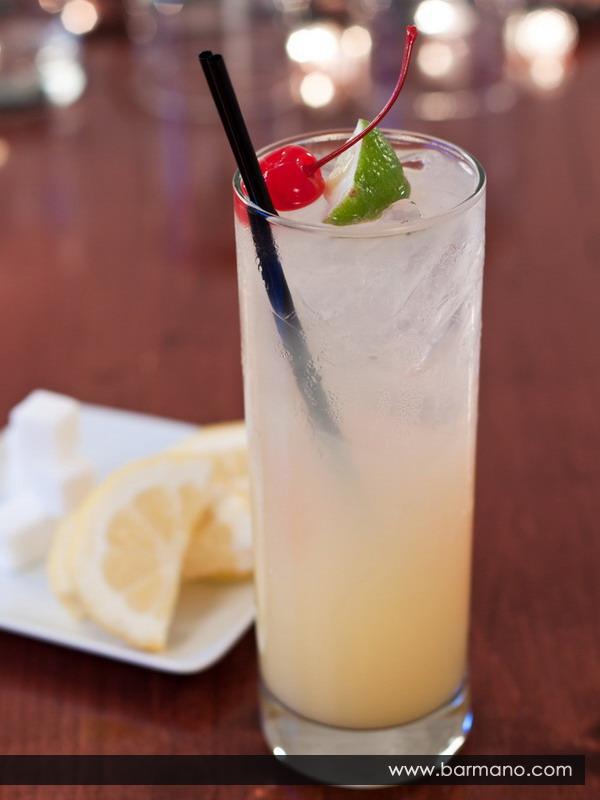 Tom Collins Instructions
In a shaker half-filled with ice cubes, combine the gin, lemon juice, and sugar. Shake well. Strain into a collins glass alomst filled with ice cubes. Add the club soda. Stir and garnish with the cherry and the orange slice.
Best served in a Collins Glass.
Some say that the Tom Collins was named after "Old Tom" Gin which is a sweetened gin used rarely today. Most older recipes call for "Old Tom". One 1912 recipe book lists a Tom Collins also with Dry Gin and Whiskey made the same way. It also has a recipe for one with Brandy in which calls for the addition of a dash or two of Maraschino. There are also accounts that it was named after the creator of the drink. England, Australia, and America have all laid claim. Tom Collins was born in 1850 and at the age of 23, worked in the garment district of NYC. To supliment his income he took a second job bartending at a tavern across the street from where he worked during the day. A place called the Whitehouse. His friends wanting something with less of a bite than strait whiskey asked him to make them something quenching. There he started pouring a "thirst quencher" made with gin that he had concocted. What started out as a gin & tonic evolved into a drink with lemon juice. His name was Tom Collins, supposedly this was where the Tom Collins drink originated. Another American account puts it in the early 19th century from an Irish immigrant, Tom Collins, one of eight children. He worked as a bartender in the New Jersey and New York area, and to beat the heat, made this drink for himself to sip without "getting tight". Friends wanted to try it, liked it, and it became his signature drink.
Similar Drinks
Whiskey Collins
B&B Collins
Rum Collins
Joe Collins
Tequila Collins
Sloe Gin Collins
Vodka Collins
John Collins
Kurant Collins
Limon Collins
Maraschino Collins
Mint Collins
Applejack Collins
Tom Collins ala Olsen
Bourbon Collins
Brandy Collins
Cran Collins
Cutty Collins
Pedro Collins
Jock Collins
Floyd Collins
Gables Collins
Victory Collins
Russian Monster Tom Collins
Lime Vodka Collins
Apricot Anise Collins