Queen's Park Swizzle Drink Recipe
Queen's Park Swizzle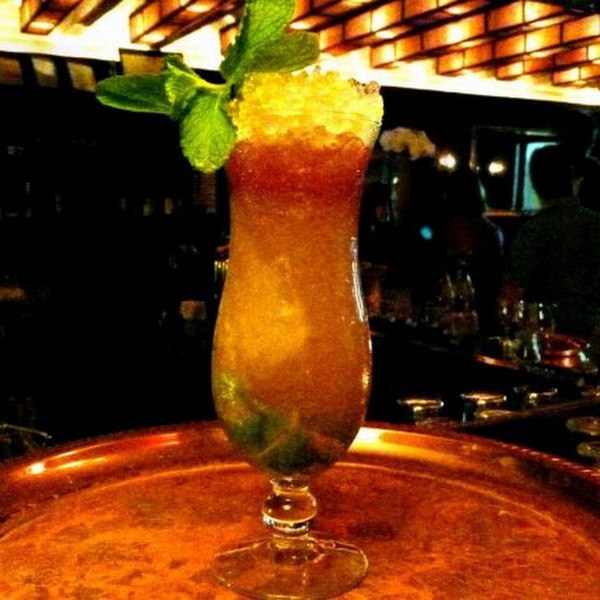 Queen's Park Swizzle Ingredients
Queen's Park Swizzle Instructions
The Queen's Park Swizzle is a refreshing cocktail that originated in the Queen's Park Hotel in Trinidad. It's a classic rum-based drink that is perfect for summertime sipping.
This cocktail is known for its vibrant green color and its herbaceous and minty flavors. It's like a mojito with a twist, thanks to the addition of Angostura bitters and a generous sprig of mint.
To make a Queen's Park Swizzle, start by muddling a few mint leaves in the bottom of a glass. This will release the oils and give the drink its signature freshness. Add lime juice, simple syrup, and Angostura bitters to the glass and give it a good stir.
Next, fill the glass with crushed ice and use a swizzle stick or a long spoon to vigorously mix the ingredients together. The swizzle motion will dissolve the sugar and create a frothy texture.
Once the mixture is well combined, top the glass with more crushed ice and garnish with a sprig of mint. Feel free to give it a gentle slap before garnishing to release even more minty aroma.
The Queen's Park Swizzle is best enjoyed on a hot summer day, as it's incredibly refreshing and has a delightful balance of flavors. It's the perfect cocktail for sipping poolside or while lounging on a sunny patio.
So why not try your hand at making a Queen's Park Swizzle? It's a classic cocktail that is sure to impress your guests at your next gathering or simply enjoy it as a treat for yourself.
Best served in a Highball Glass.