Inverted Traffic Light Drink Recipe
Inverted Traffic Light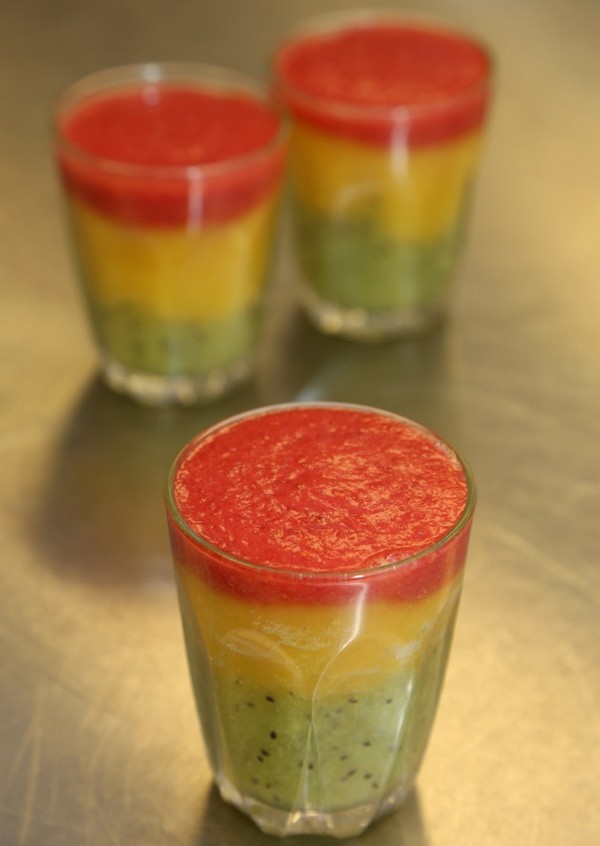 Inverted Traffic Light Ingredients
Inverted Traffic Light Instructions
If you're looking for a fun and colorful cocktail to serve at your next party, look no further than the Inverted Traffic Light. This vibrant drink gets its name from its layered appearance, resembling the colors of a traffic light.
The Inverted Traffic Light is a visually stunning cocktail that is sure to impress your guests. It features three layers of different colored liqueurs, creating a beautiful gradient effect in your glass. The green layer represents the bottom of the traffic light, followed by the yellow layer in the middle, and finally the red layer at the top. This combination of colors makes for a striking presentation that is guaranteed to turn heads.
To make an Inverted Traffic Light, you'll need a steady hand and some patience. The key to creating the layered effect is to pour each liqueur slowly and carefully over the back of a spoon. This technique helps to prevent the different layers from mixing together, allowing the colors to stack on top of each other.
Start by pouring the green liqueur into your glass, filling it up to about one-third of the way. Next, carefully pour the yellow liqueur on top of the green layer, using the back of a spoon to slow down the pour. Finally, repeat the same process with the red liqueur, pouring it slowly and steadily over the spoon.
Once you've successfully created the layered effect, your Inverted Traffic Light is ready to be enjoyed. Take a moment to appreciate the stunning colors before stirring the drink together to combine all of the flavors. Some variations of this cocktail also include a splash of club soda or lemon-lime soda for a fizzy finish.
In addition to its impressive appearance, the Inverted Traffic Light also offers a delightful taste. Each layer brings a unique flavor to the mix, creating a well-balanced and refreshing cocktail. The combination of liqueurs provides a blend of sweetness and tanginess that is sure to please your palate.
Whether you're hosting a party or simply looking to enjoy a fun and visually appealing drink, the Inverted Traffic Light is the perfect choice. Its colorful appearance and delicious taste make it a hit with guests of all ages. So next time you're in the mood for a refreshing cocktail, give the Inverted Traffic Light a try and let it light up your evening.
Best served in a Cocktail Glass.