Original Zombie Drink Recipe
Original Zombie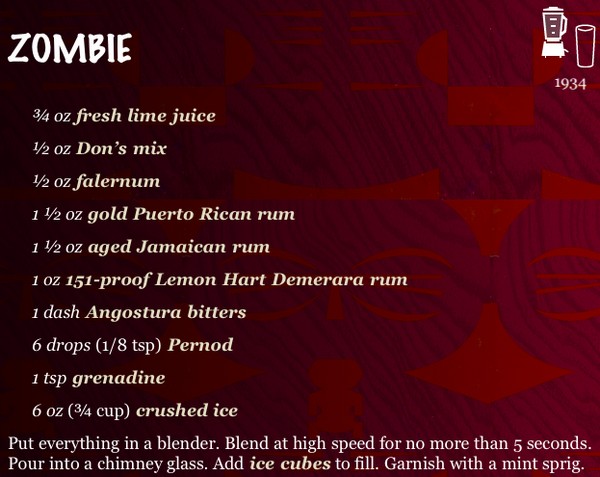 Original Zombie Ingredients
Original Zombie Instructions
Original Zombie Recipe: A Spooky and Refreshing Cocktail for Any Occasion
The Original Zombie cocktail is a classic tiki drink that packs a punch. It was first created by Donn Beach, a famous American bartender, in the 1930s. This spooky and refreshing concoction is a must-have for any Halloween party or tropical-themed gathering.
To create the Original Zombie cocktail, you'll need a variety of spirits and mixers. The exact recipe can vary, but it typically includes rum, lime juice, pineapple juice, apricot brandy, and grenadine. These ingredients are shaken together with ice and served in a tall glass with crushed ice. The finishing touch is a garnish of fruit and a straw.
Preparing the Original Zombie cocktail is easy. Start by pouring 1 1/2 ounces of light rum into a cocktail shaker. Add 1 1/2 ounces of dark rum, followed by 1 ounce of lime juice, 1 ounce of pineapple juice, and 1/2 ounce of apricot brandy. Lastly, add 1/4 ounce of grenadine for a touch of sweetness.
Add a handful of ice to the shaker and shake vigorously for about 10 seconds. This will chill the drink and help combine all the flavors. Once you've finished shaking, strain the cocktail into a tall glass filled with crushed ice.
To garnish the Original Zombie cocktail, add a sprig of mint or a pineapple wedge to the rim of the glass. You can also stick a straw into the drink for easy sipping. The combination of flavors in this cocktail is sure to impress your guests.
Whether you're hosting a Halloween party or just want to enjoy a tropical drink, the Original Zombie cocktail is a great choice. It's delicious, refreshing, and easy to make. Cheers!
Best served in a Hurricane Glass.